Everything here specifically relates to hiking the CDT (Continental Divide Trail).
In part, this information was intended as a repository for "some" of the information for our 2006 CDT thruhike. Since we completed that hike, we'll move on to the other part - trying to share some of our thoughts, experiences, and observations from thruhiking the trail, a lot of years of research, and talking (and listening) to a lot of CDT hikers. The purpose is precisely the same as that of The Thruhiking Papers - just CDT-specific.
So this is "our" knowledge, "our"experience, "our" viewpoint - "our" hike. Others have different knowledge, experience, viewpoints - and opinions. HYOH
If you hike the CDT, your experience WILL be different. We'll guarantee that.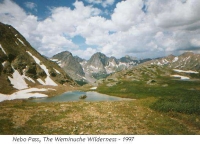 Nebo Pass, Weminuche Wilderness, 1997
You'll find three types of information here - first there's the same kind of "head stuff" that we've talked about for the last 15 years. And there's the "hard stuff", meaning the town, mileage, map and trail information that some people think is "essential" to doing a thruhike.
Finally, there's Bun-Bun, who writes essays about things that most people make assumptions about - but never actually "think" about. Some people don't agree with Bun-Bun. That's cool - nobody has asked them to agree. HYOH
This is NOT, nor is it intended to be, your "one-stop-shopping, everything-you-ever-wanted-to-know-about-hiking-the-Continental-Divide-Trail" site.
We wouldn't do that to you even if we could. If we gave you "EVERYTHING" you need to hike the CDT, we'd be stealing the pride and satisfaction that comes from doing your own research and planning your own hike. If you followed in "OUR" footsteps, then you'd be hiking our hike - not yours. And that would please us considerably less than it would you.
And then, we "couldn't" give you EVERYTHING even if we wanted to. On the CDT, every hike is unique. The experiences you'll have on the trail will be very different from those of other hikers in other years, those hiking in a different direction, or even those hiking a few days behind or ahead of you. For example:
A southbound hiker may talk about how cold the trail was, and a northbound hiker might shake his/her head and say, "I don't know what you're talking about. I wasn't cold all the time."
Some will say you have to go super-light. Others will say, "Go light, but not so light that you aren't prepared for bad weather."
One may talk about the horrendous bugs in southern Montana, another say "No way!"
One may say that hitchhiking is terrible at a certain location, while the next hiker got a ride immediately.
One will talk about the terrific trail angels in a certain town, while a hiker a day ahead or behind never had the pleasure of meeting them.
Some years fire or drought may close the forests in New Mexico in the Spring, other years snow or fires will close Montana in early September.
Most years southern Colorado isn't passable until mid-June - but some years hikers have been able to hike straight through with little problem.
Some hikers have a very hard time finding water in New Mexico and Wyoming - others have gone through after a wet winter and wondered what all the fuss was about.
So anything you hear about the trail may be true for you - or not. Our most basic lesson for the trail is: Be flexible! Be prepared to change your plans at a moment's notice - every day.
In practical terms, this means you need to know what your options are, which means doing some research ahead of time. Presumably, that's why some of you are reading this now.
As with everything we write, the basic "Thruhiking Paper" caveats still apply. So let's repeat them here:
This is not a "Thruhikers Manual". It's a collection of our thoughts, feelings and information about the realities of thruhiking.
This is our personal experience, observation and opinion. There's nothing scientific or even necessarily logical about it. But then, people aren't logical, are they?
We're "fringe" people whose lives changed drastically on the Trail. What happened to us is NOT the norm.
As thruhikers we are, by definition, crazy and therefore cannot be held responsible for anything we say.
We may wander off in strange directions.
You may not like everything we have to say.
Advice is worth what you pay for it - and this is free.
One more caveat – this is OUR information - much of it came from experience gained during OUR 1999 and 2006 CDT thruhikes. If you want it, the information is free, but keep in mind caveat #7 above - and that "payment" is not always in cash. If you can use our information, that's cool. If your hike, your route or your goals are different, you may need to find a different information source. If you don't want the information, we won't miss any meals. We wanted our thruhike to be "unique" – we hope you do, too.
Finally - these "essays" were written over a considerable period of time. In fact, nearly everything here has been published previously on one Internet forum or email list or another in the last 10 years. So you'll find some repetition if you read it all.
It won't hurt you.